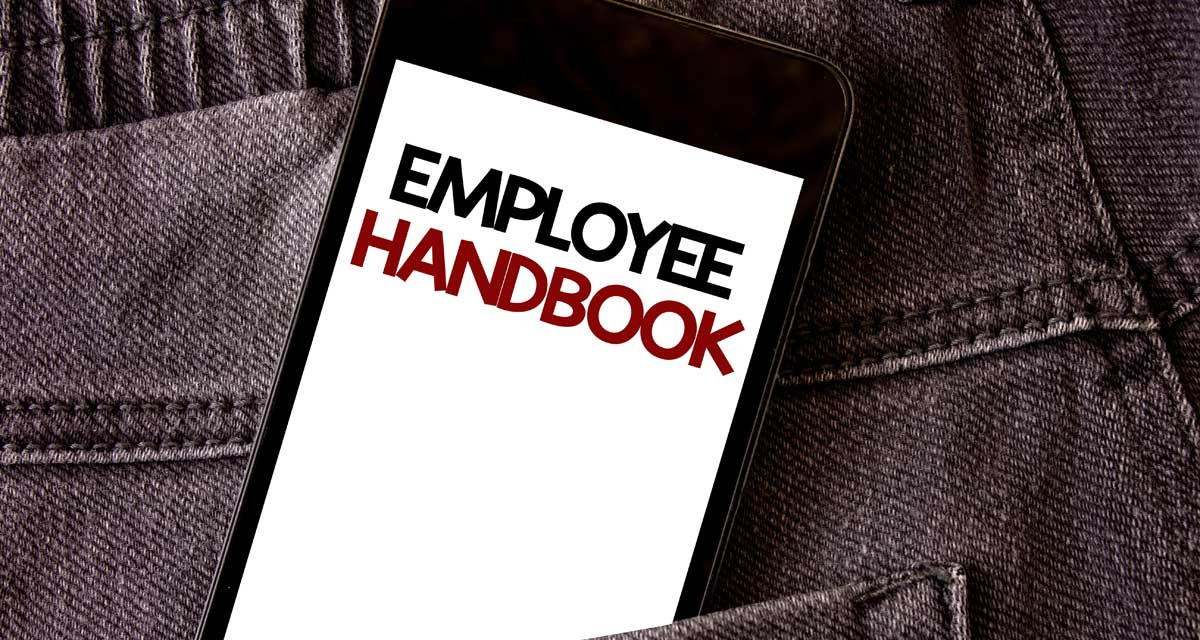 If you have employees, an employee handbook is a critical part of your business. It will establish and communicate your company's mission, values and policies to your employees and provide the company with an invaluable level of legal protection. But a high quality handbook can do much more than that. It can play a key part in defining the company's culture and in cultivating feelings of inclusiveness and appreciation among its employees. A well drafted employee handbook can serve both as a legal document and as a company culture building tool.
Top Reasons to have an Employee Handbook
There are many good reasons to have an employee handbook. Some of these have to do with the legal protections that a handbook can provide. There is many a lawsuit that has been won because the employer could point to the specific, written policy that the employee had violated, which was the "non-discriminatory" reason for his or her termination. Other reasons are more focused on the benefit handbooks can afford in defining the company's relationship with its employees. Let's look more closely at the top reasons to have an employee handbook:
To reiterate, explain and reinforce the company's employment-at-will policy and to obtain employees' written acknowledgment that they have read and understood such policy.
To communicate to employees a clear and consistent understanding of what the company expects from them re-performance, responsibilities, and procedures and to obtain employees' written acknowledgment that they have read and understand the company's rules and other policies.
To inform employees about what they can expect from the company in the form of wages, benefits, and other considerations.
To ensure that company policies and procedures re compensation, safety and health, job performance, conduct and behavior, disaster preparedness, and other related employment issues are clearly and accurately stated in order to facilitate the consistent application and enforcement of such policies.
To communicate information the company is legally obligated to provide in accordance with federal, state, and local laws and to ensure compliance with such laws.
To help the company resolve and/or defend against the disputes, legal and otherwise, that will inevitably arise with employees.
To communicate the company's mission and values to employees and to foster feelings of inclusiveness and appreciation among them.

Why Customization is Important
Not all employee handbooks are created equal, however. If a company doesn't have a customized, well thought out, and professionally developed handbook, it may cause more harm than good. For example, simply downloading a generic employee handbook and slapping your company's name on the cover is risky. It may commit your company to follow some laws or policies unnecessarily and/or cause it to be out of compliance with others that it is obligated to follow.
The other problem with a generic handbook is that the company may make decisions that are contrary to the policies in its own handbook. Or better yet, the company may use "policy violations" as an excuse for disciplining an employee when the policy is non-existent. These scenarios are real possibilities and can create liability for companies when the company's actual policies are not reflected in the handbook.
There is no question that it is beneficial to have your employee handbook professionally drafted with a legal review and to have it customized to reflect the federal, state and local laws to which your company is subjected and your company's policies. It is also important to review your handbook annually and modify it to reflect changes in the law and your policies. Furthermore, a real opportunity is missed when the company does not tailor the handbook to help define its own culture and values and to cultivate feelings of inclusiveness and appreciation among employees.
The Benefits Outweigh the Costs
An employee handbook can seem intimidating, but it is something that is necessary for employers of all sizes. Having one that is developed properly can bring employers a level of peace of mind in their employee relations management. Having an employee handbook does not mean you won't get challenges or sued, but it will definitely help you defend your actions and limit your legal exposure. Simply stated, the benefits of a high-quality employee handbook unquestionably outweigh the costs.
Excelerator® Can Help!

Established in 2014, Excelerator® provides HR Outsourcing, Training, and Payroll administration to companies of all sizes in a diverse set of industries. Our clients range from startups to multibillion-dollar global companies.
Excelerator® can provide a complimentary consultation on your HR needs.


EMAIL This email address is being protected from spambots. You need JavaScript enabled to view it. | PHONE 888.511.6001| www.exceleratorconsulting.com